Welcome to
"

Buzz on by Thursday

"
blog hop hosted by
Fashionably Organized
and The
Two Savvy Sisters
! Buzz on by Thursday is a great way to meet new bloggers and increase your Google followers! So join us we promise you will have a blast!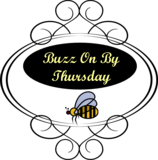 If you want to be a part of Buzz on by Thursday, just follow these few rules:
Follow ALL of the Hostesses
If you're a new follower make sure to leave us a comment so we can follow you back!
WE DO FOLLOW BACK! If you are already a follower let us know.
1.
Add your blog name and URL
to the linky below (only have to add once) and post about Buzz on By Thursday on your blog, and or post the button on the right hand side of your blog
3. Start to follow as many blogs as you would like. (Make sure you leave a comment so they can follow you back and tell them where you are from!) When you receive a comment from a new follower, return the favor & follow

Hello! My name is Chelsea. I run a review and giveaway blog called
Twee Poppets
. My focus is on products for babies, children, parents, parents-to-be, homemakers, caregivers, and families. I also host my own weekly blog hop called Tuesday Tag-Along. I'm fairly new to blogging, but I'm having a great time! I'm so happy to be a part of Buzz on by Thursday today!
Thanks so much!
Chelsea
The BUZZ about our Blog Hop:
By adding your blog
YOU MAY BE RANDOMLY CHOSEN FOR OUR BLOG SPOTLIGHT OF THE WEEK!!!
We will highlight your blog and bring you many new followers!! A blog will be picked at random via random.org to be spotlighted next Thursday.
Now lets have some fun!!
Thanks for BEEING a part of Buzz on by Thursday have fun!!!
Would you like to Sponsor Buzz on By Thursday and advertise your product on BOBT? Please feel free to contact Nicole from The Two Savvy Sisters or Candice from Fashionably Organized for more information.
Happy Hopping,
Candice and Nicole